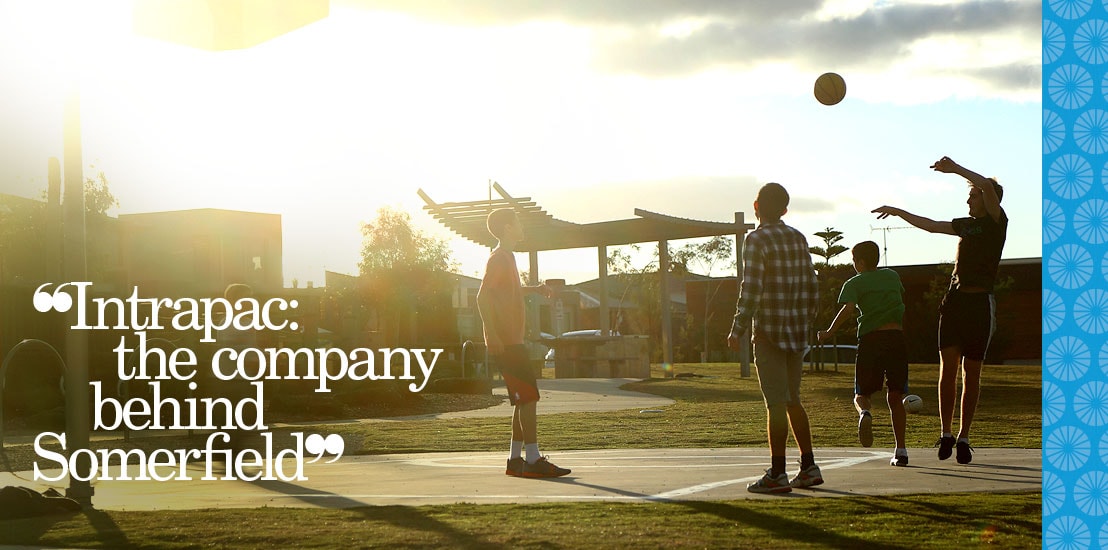 INTRAPAC – THE COMPANY BEHIND SOMERFIELD
At Intrapac we specialise in creating inspiring environments – where people want to spend time, work and live. We select premium sites with access to schools, transport links, shopping and more, and commission the finest planning and design specialists to ensure that the streetscapes, parklands and roads are cohesive and attractive. We then partner with the nation's finest contractors to ensure our vision is achieved.
Intrapac was established in 1984 by Executive Chairman, David Payes, and has since developed a reputation for creating high quality, liveable neighbourhoods, winning some of Australia's most prestigious awards in the process.
Six Time Urban Development Institute of Australia (UDIA) excellence award-winner:
2016: Somerfield – Residential Development
2016: Somerfield – Environmental Excellence
2008: The Quay – Residential Development
2002: Lorikeet Ridge – Residential Development
1997: Oak Tree Rise – Residential Development
1996: Churchill Park – Residential Development
BRENCORP PROPERTIES – SOLID FINANCIAL BACKING
Brencorp Properties, a wholly owned subsidiary of the Taverners Group, was established in 1990. Acting principally as a land development partner, Brencorp has been involved in creating residential communities in Queensland, Australian Capital Territory, Victoria and South Australia.
Under the guidance of its Managing Director, John Crosby, since its inception, Brencorp works by establishing key partnerships with experienced local developers. Intrapac has been a key partner in Victoria, with the Brencorp/Intrapac team having completed a number of highly successful developments together.
Churchill Park
Lorikeet Ridge
Oak Tree Rise
Palm Grove
Woodlands
The Quay