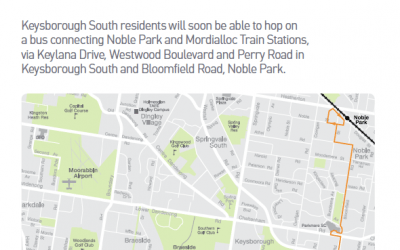 A new bus route through Keysborough South will start on Sunday 28 August, 2016.
The new Route 709 will run from Noble Park station to Mordialloc station via Keylana Drive, Westwood Boulevard and Perry Road in Keysborough South, and Bloomfield Road in Noble Park.
It will connect local passengers to the Frankston and Dandenong train lines, and Route 902 Smart Bus on Springvale Road, as well as providing residents south of Cheltenham Road with a direct connection to Parkmore Shopping Centre.
The new service will run every 30 minutes between 6am – 7pm, Monday to Friday. It will run every hour from 7pm to around 9pm during the week.
On Saturdays, services will run every half hour from 7am – 7pm, and every hour until 9pm. On Sunday services will start at 8.30am and run every 30 minutes until 7pm, then every hour until 9pm.
Somerfield residents and Keysborough South Action Group are to be congratulated on their hard work in making this happen.