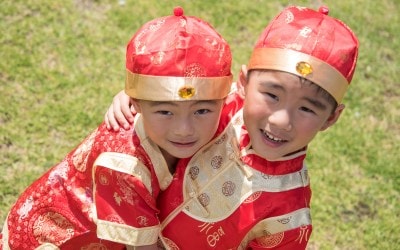 Despite fierce competition for Lunar New Year events in the region, Somerfield residents – young and old – turned out in the hundreds to celebrate the Year of the Monkey with their neighbours and to watch a magical lion dance and firecracker display in the estate.
"It's important for us to celebrate all the cultures within our diverse community at Somerfield," says Maxwell Shifman, Chief Operating Officer for Intrapac Property, the company behind the popular estate. "So, we are pleased to see the event growing in numbers. This was the third year Lunar New Year was celebrated at Somerfield and it was our best turn-out yet."
One of the youngest at the event was three-month-old Riley Soo, dressed up in traditional Chinese New Year costume alongside his brothers Hayden (5) and Tyler (3). Their grandparents Dennis and Soo Ngeeann wore matching Chinese slogan t-shirts translated as "Everything is Successful". They brought gifts for their grandchildren, including almond tarts and love letter biscuits, a nod to Valentine's Day also being celebrated on the day.
One of the first couples to buy a home in Somerfield, Patrick and Noëlla Gueit, said they go to as many events as they can in Somerfield: "It's so good to be able to connect with people who live nearby, because the world is so impersonal these days. Many people don't even know people down their own street, so it's a great opportunity for us to make new friends."
Hien-Ly Phom met her teenage neighbours Isabelle and Skye at a similar Somerfield event and now they walk together to attend all the events with Hien-Ly and her three-year-old daughter Delta.
"It's amazing, you forget there's so many people in your neighbourhood," says Isabelle. "It's nice to connect with them."
Lucky oranges symbolising wealth were thrown out to the crowds, as well as free fortune cookies for the kids. Firecrackers were also set off to ward off evil spirits and the colourful lions were a hit with the crowds, scrambling for photos with them after the show.
Somerfield is now over 90% sold, but new packages of land are soon to be released onto the market, as well as new 2 & 3 bedroom apartments starting at $395,000.