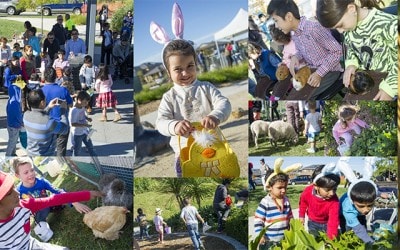 Somerfield Social Club is holding an Easter event for its youngest residents on Sunday 13 March from 10am – 12pm at the Pirate Adventure Playground on Westwood Boulevard. It will feature an animal petting farm, face-painter, balloonist and a visit from the Easter bunny with a festive Easter egg hunt.
"Easter is meant to herald spring and new life, but in Australia it's also a precursor to colder days to come," says Max Shifman, Chief Operating Officer for Intrapac Property, the company behind the project. "Our Easter event is therefore both a chance to celebrate Easter and a chance to catch up with friends (old and new) before the winter months keep us all indoors more."
At Somerfield, Easter means Easter egg hunts around the Pirate Adventure Playground, a balloonist twisting and turning a simple balloon into a work of art, face painters transforming toddlers into adorable Easter bunnies, a petting zoo to educate and entertain the youngest in the development, and plenty of smiles.
"Somerfield is proud of its diverse community and we look forward to seeing how all the cultures in our development celebrate this special time, especially the kids," says Shifman. "We encourage children to dress up in their Easter outfits, but also in their own cultural outfits to showcase all the colourful character we have in the neighbourhood."
Somerfield Social Club is run by a team of volunteers, together with the help of Intrapac Property. Come down and support the work they do to bring events such as this one to the Somerfield community.
#ends#